World
Trump, Biden, Kanye, Musk among the top tweeted-about people in 2020
According to a year-end review of Twitter, US President Donald Trump (1) and President-Elect Joe Biden (2) were the most tweeted about people worldwide in 2020, followed by George Floyd (3), Kobe Bryant (4), and Barack Obama (5). Korean band BTS (6), Indian PM Narendra Modi (7), Kanye West (8), Elon Musk (9), and Kamala Harris (10) also made it to the list.
Kamala Harris was the only woman on the list and stood at the 10th position globally.
"People continued to utilize Twitter to publicly advocate for political change and demand accountability from world leaders this year. Over 700 million Tweets were sent in 2020 about elections around the world and Donald Trump, Joe Biden, Barack Obama, Narendra Modi and Kamala Harris were among the most Tweeted-about global figures."

Tracy McGraw, Global Head of Consumer Communications, Twitter
There were a few other interesting insights on the original blog post:
Most liked and most retweeted tweet was about the announcement of the demise of Black Panther star – Chadwick Boseman
Most discussed TV shows: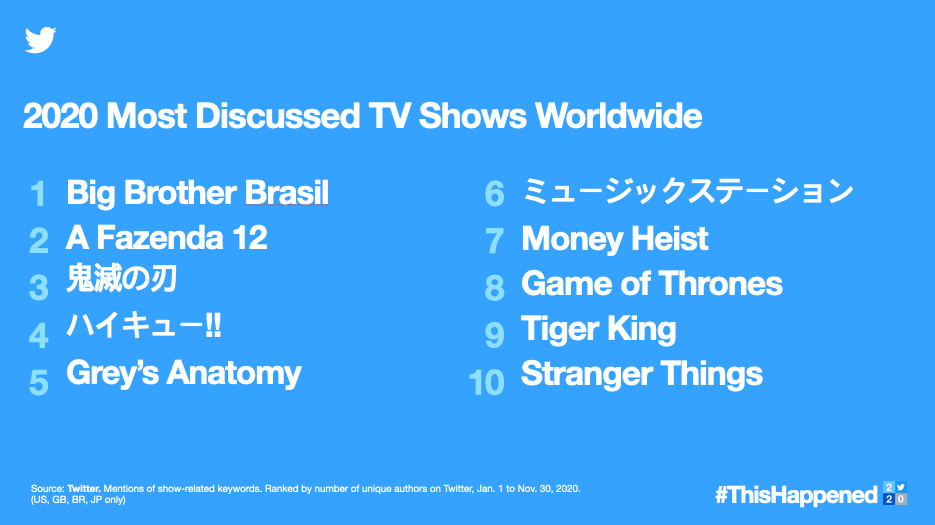 Most used hashtags:
Get to the original post to see the Top Trending Emojis and Most Discussed Sports Teams and Sports Games.
The tweets that were used for this end-of-the-year recap were taken from Jan. 1 to Nov. 15, 2020.